Our single most requested (and longest-awaited!) new piece of functionality has just launched: Adding flat-rate VAT to your cash flow, balance sheet and Profit and Loss - and all with just two clicks!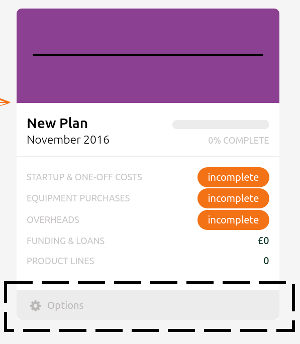 In true Finanscapes style, the forecasting tool does the hard work for you. All you need to do is enter your particular flat VAT rate (taken from the HMRC website), and the month when you intend to register your business for VAT. From that point on, we'll calculate how much of the sales price of each product line will need to go to HMRC, and when. From there we can show you what your profitability will be, how your cashflow will be affected by your VAT returns and even how much money on your balance sheet at the end of the year is the VAT man's rather than yours!
To enter those two pieces of information just go to Your Plans page, and either press the big PLUS sign to create a blank new forecast or flip-over the card for an existing forecast by pressing the Options banner at its base:
On the back of the card you'll see there's nothing more to do than enter the percentage and the month you'll register. (It's fine to enter a month in the past if you're already registered - we'll use it to calculate when your first year VAT discount will end). If you'd like to do a direct comparison you could make a copy of your old forecast first by pressing the "Clone" button in the top right corner on the back of the card, then set the VAT details on the newly created copy.
Finanscapes will handle the rest - including:
Factoring-in the 1% discount that HMRC apply for the first 12 months.
Calculating how much of the sale price of each of your product lines/ groups will need to be paid to HMRC. (People often make the mistake of thinking it's a percentage of the sale price, but that's incorrect - VAT is actually applied to your ex-VAT amount, which is a different amount!).
Applying the impact of VAT to your product's gross and net profit percentages, so you know how your margins will be affected.
Combining-together the VAT percentage with your varying sales forecast and pricing, and calculating what that means to your overall business profitability.
Calculating your VAT bill and applying those payments to your cash flow forecast so you can see when the money you've collected on behalf of the Inland Revenue will need to be handed-over.
And reflecting the money you owe at the end of your business's financial year on your balance sheet. It'll be in your account, but it's not actually your money of course!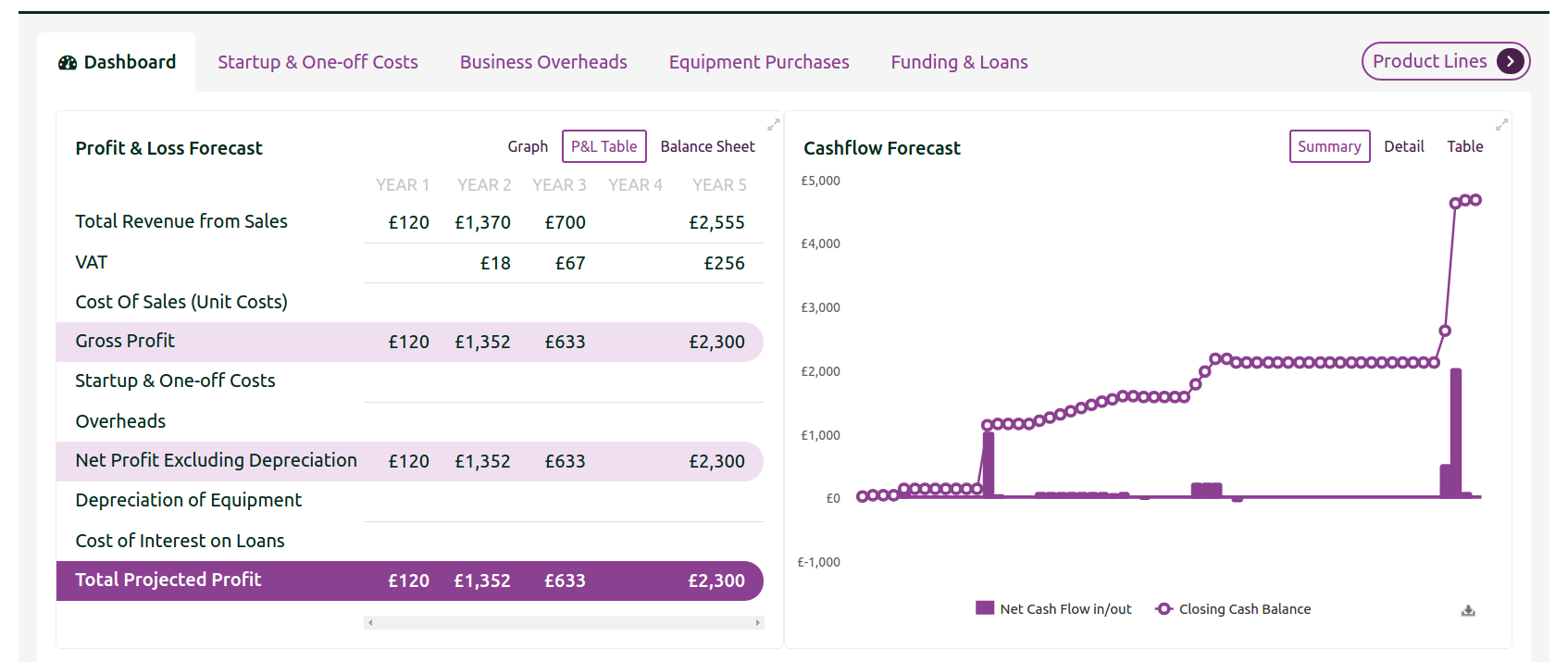 Try It Out
If you're not familiar with Finanscapes, why not take a look at an existing forecast that we've published without even registering? Once you've opened it up, click on the little "copy" icon to the right of the plan name ("Pete's coffee shop" in this example). That will create your own working copy of the forecast so you can make your own edits. Once you've done that you can see what VAT would do to this forecast by going to Your Plans page, flipping-over the card and entering a rate and a date as we've described above.
You can see the business-wide Profit & Loss, Cashflow and Balance Sheet information at the top of the Plan Overview page, and everything else is only a click or two from there.
Some Technical Details
Just in case you're interested in some of the technical bits:
We include a line on your P&L, Cashflow and Balance sheet for VAT, whereas some accounting software doesn't show it at all (they deduct it before displaying the Revenue line).

Finanscapes

makes the impact totally visible to help you make decisions and plan ahead (where accounting software looks back, retrospectively).
You cannot model variable-rate VAT with

Finanscapes

. You would need to enter such a lot of detailed information about things that haven't happened yet that it's likely that even if you typed-in all the low-level detail about the rateable value of each individual purchase you intend to make, reality would turn-out different anyway. HMRC consider the flat rate scheme is such a good approximation that once you've started your business they let you use the same basis for your actual payments!
Flat Rate VAT is collected on all sales every month, but you don't pay the money to the Inland Revenue until 5-6 weeks after the end of the VAT quarter. This can cause difficulty in cash-flow planning (where you're hit with a big bill) if you don't look ahead and forecast.
For many startups and small businesses, the cash-basis method of calculating VAT is beneficial. Under this mechanism, VAT is incurred when your invoice is paid, not when you first issue the invoice (the payment date rather than the invoice date). If you don't register for cash-basis VAT accounting you may need to pay HMRC before you've even received the money from your clients! We therefore assume you'll go for cash-basis VAT accounting and factor that into your cashflow. (The calculations for that alone are rather complex when they overlap with the end of your first year discount, so good luck to people still using spreadsheets!)
At the end of your business's financial year, you will owe the Inland Revenue some VAT that you've collected but not yet handed-over. Your end-of-year balance sheet will include this amount as a debt.
Any questions? No problem, give us a call on 08000 24 89 24 or send us an email on contact@finanscapes.com and we'll get straight back to you.