Nearly half a million new businesses are started each year in the UK with 25% failing within the first year and only 50% making it pass the first 4 years.
These are shocking statistics but what if we told you we had a solution - and it didn't involve maths or masses of investment!
Forecasting
Forecasting is the key to making better decisions about your start-up business as it gives you a risk-free view of the future of your business and allows you to make informed decisions based on realistic situations.
Finanscapes understands that managing and analysing the financials can be scary and daunting to start-ups and entrepreneurs and more often than not, pushes people out of their comfort zones.
This is why we have created our cloud-based online forecasting tool. We make it simple, easy and painless to create and understand the financial forecasts for a start-up or small business.
Forecasting allows you to identify the key performance indicators of your business such as:
Cash flow
Profitability
Break-even points
With this information to hand, you can make informed management decisions about the future of your start-up with confidence and certainty that you have made your decision based on facts and figures and not myths and legends.
Cash flow forecast
Having a regularly updated cash flow forecast means you know what cash you have available in the business at any given time, either now or in the future.
This information is really useful when making decisions about;
taking on more staff,
ordering more stock or supplies,
moving offices or
expansion.
You won't be able to make these types of decisions confidently if you don't know how much available cash is in the business to finance these decisions.
The Finanscapes forecasting tool allows you to forecast an unlimited amount of scenarios which means you can see what impact each of these decisions will have on you cash flow. From here, you can take precautions or put measures in place to minimise the impact these decisions might have on your cash flow and other key performance indicators.
Profitability
The profit and loss of any business is important to its long term success and you need to know what the profitability of your business is both before you start and as you grow, year on year.
Cash flow and profitability work hand in hand for any successful business so the Finanscapes forecasting tool shows them side by side in their easy-to-understand graphical dashboard.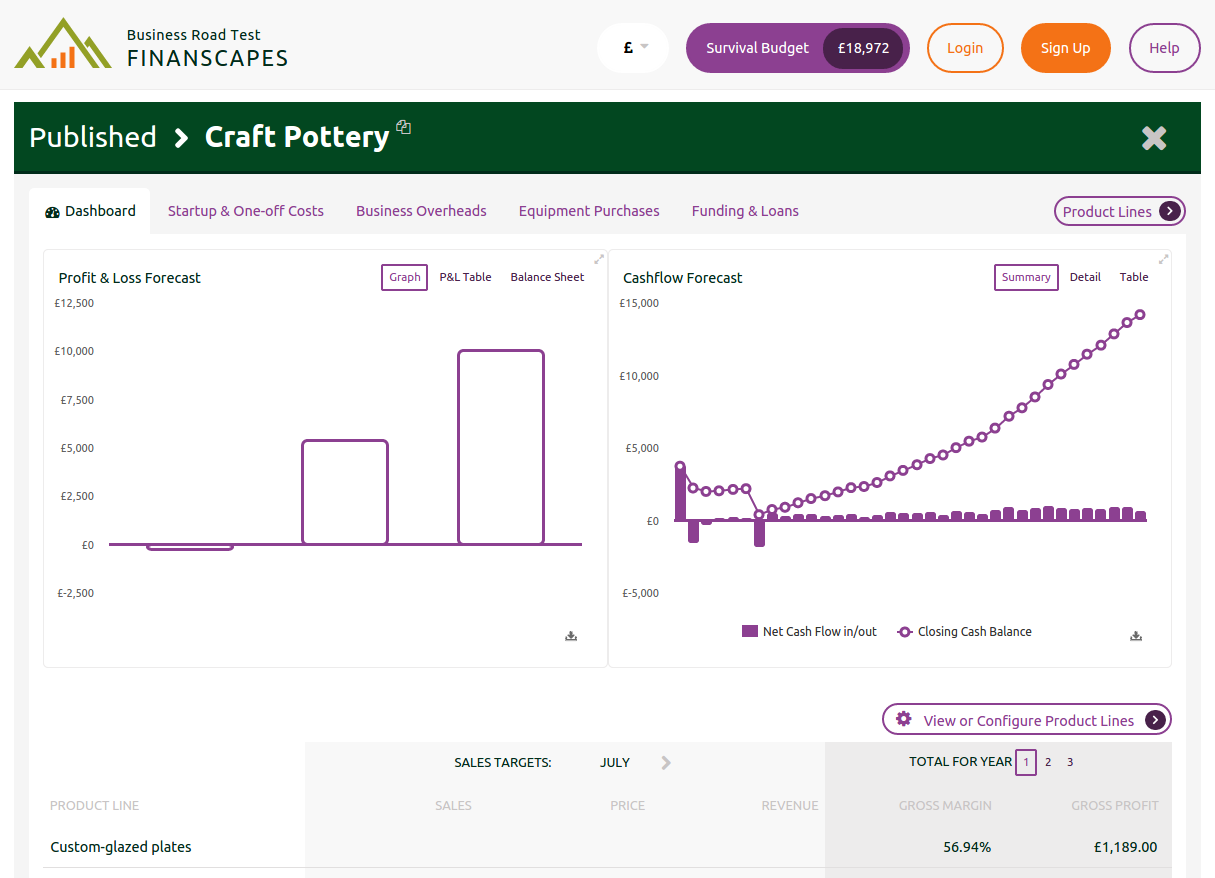 This will instantly show if you are going to make a profit at the end of your financial year and how that will impact on your cash flow on a monthly basis until then. And it will help you decide on the best times to make investment decisions, growth plans and take consolatory action.
Break-even point
The break-even point of a business is when the income matches the outgoings. Our online forecasting tool tells you whether the sales forecast you have entered for each product or service line is going to be adequate to break-even.
This means you can see if a product or service is going to be profitable or not even before you invest in it. It can also help you to set the correct price for each of your products or services in line with your businesses growth plans.
Break-even forecasting will help you to identify which of your product or services lines are significantly contributing to the success of your business and which are becoming a financial drain on it. And knowing the break-even point for each of your product or service lines can help you make management decisions to increase the overall success and growth of your start-up.
Forecasting your success
Finanscapes has been working with start-ups and entrepreneurs for more than ten years and has become increasingly aware of the fear-factor around financial terminology, formulae and numbers. This is why we have created a forecasting tool which doesn't require any maths and is not reliant on you being able to program the correct formulae.
Spreadsheets are notoriously unreliable because they are subject to human error and unless you are experienced and competent with Spreadsheets and their capabilities, you could end up with forecasts and numbers which do not bear any resemblance to your business. Just imagine how scary it could be if you based management decisions on incorrect forecasts!
Knowledge is power and forecasting gives you the information to become a successful and powerful entrepreneur.
Start forecasting for FREE with Finanscapes and give you and your business the best chance possible of success.